Matt's birthday is in January, only a few days before mine. Plus a year. And for his big 3-0 a few years ago, he wanted to do something big! Travel somewhere! Which is totally fine with me because that means I probably get to be traveling somewhere for my birthday too! Extra fine because it was going to be my golden birthday (turning 29 on the 29th of the month) and I wanted to celebrate it!
We looked at our options and decided we wanted to go to Costa Rica. Neither one of us had been, nor had we ever used a Groupon for a trip, even though we've come across them multiple times, so we thought, why not? Some friends of ours had been to Costa Rica and were a great resource, but truthfully, we just didn't want to plan everything out. I knew whatever we saw would be great, so how about we leave what to see to some experts.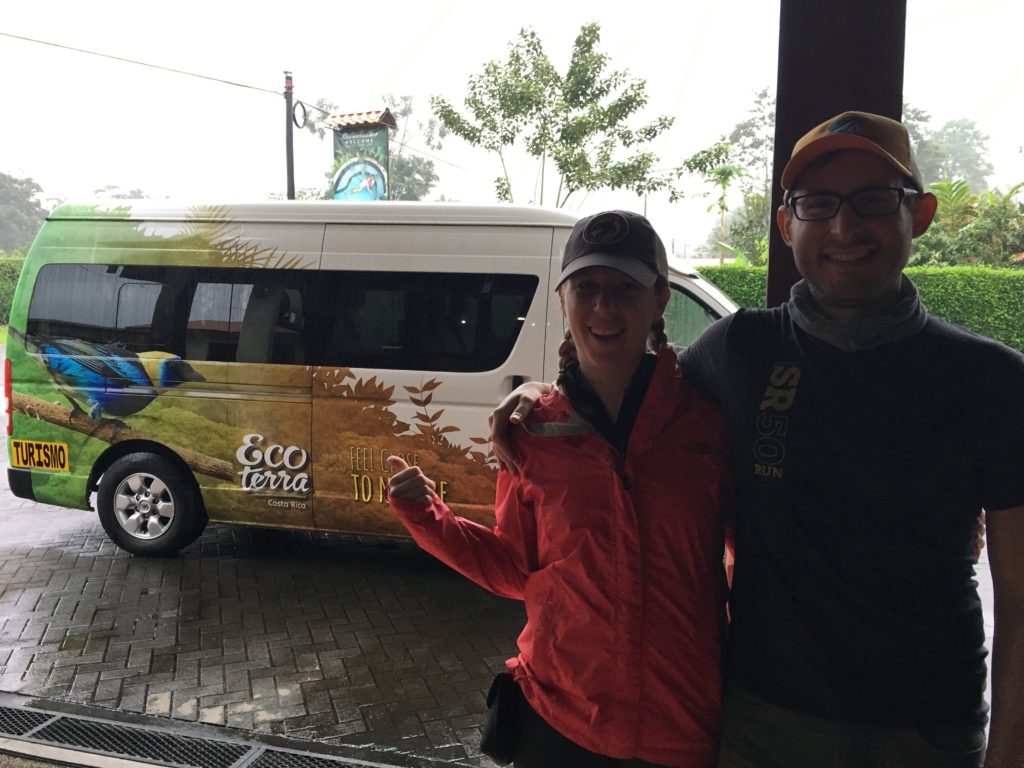 The Groupon thing is interesting, because now that the trip has happened, I can say that the Groupon was great! However, it was really the tour company, Eco Terra, that was great, so I can't speak for all multi-day Groupon trips. To see the advertisement for the specific trip we took with Eco Terra, you can find it here (https://www.ecoterracostarica.com/tour/arenal-volcano-monteverde-cloud-forest-package/).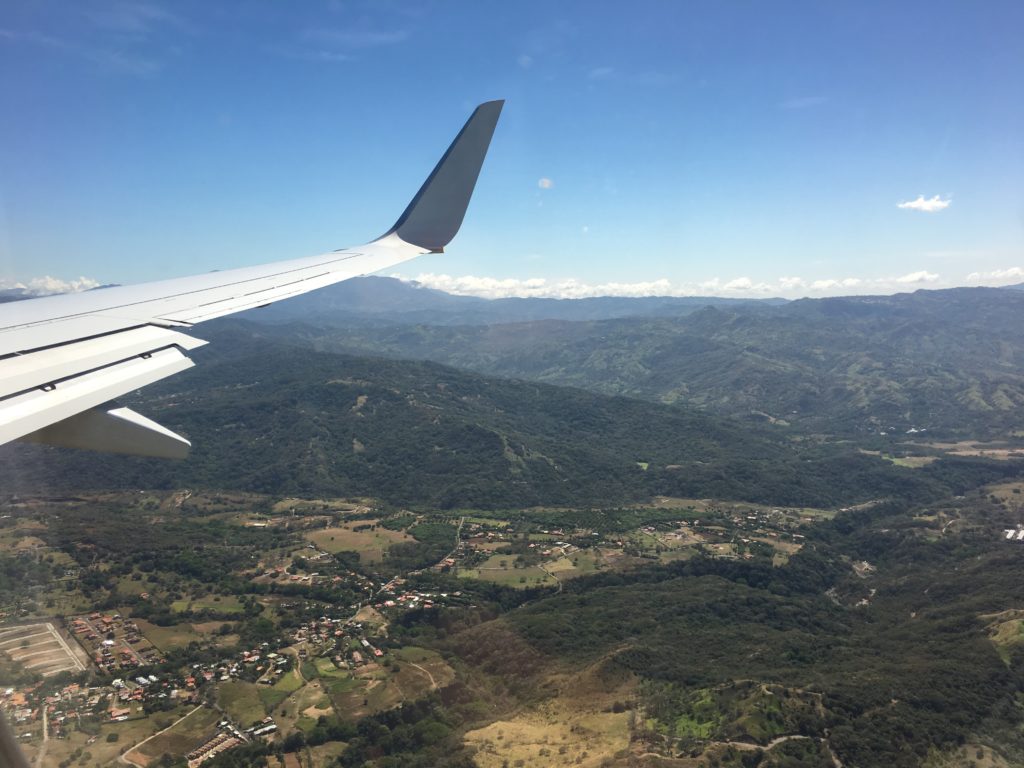 We were responsible for our flights and ended up on a redeye through Miami. We arrived in San José around 8 a.m., just late enough to miss the morning driver. So, we hung out at the foreign airport, outside with all the taxi drivers, basking in the warm, humid weather until 3 p.m. when our ride was ready.
We were taken to our first destination in the Arenal Volcano National Park Region, to Casa Luna Hotel & Spa, about a 3 hour drive. There were two other girls in the car with us, and one didn't feel well on the windy roads, so we took our full time getting there. It was worth it though. We immediately put on our swimsuits and hung out in the hot tubs (it was still January after all!) After the long day, we had only enough energy to go to the hotel's restaurant for dinner before going to sleep.
One of the funniest things about traveling with the Groupon was that I was somehow in charge of the itinerary, but I really didn't know what was going on. I had taken a bunch of screenshots on my phone of the schedule, then every night I would check the photo to tell Matt, "We have to be in the lobby at 8:15 a.m. tomorrow." And that was it. Some shuttle would come and take us on our next adventure! Luckily, we learned very quickly that the two girls from our airport shuttle, as well as a father/daughter duo, were on the same schedule as us, so if we saw them, we were in the right place.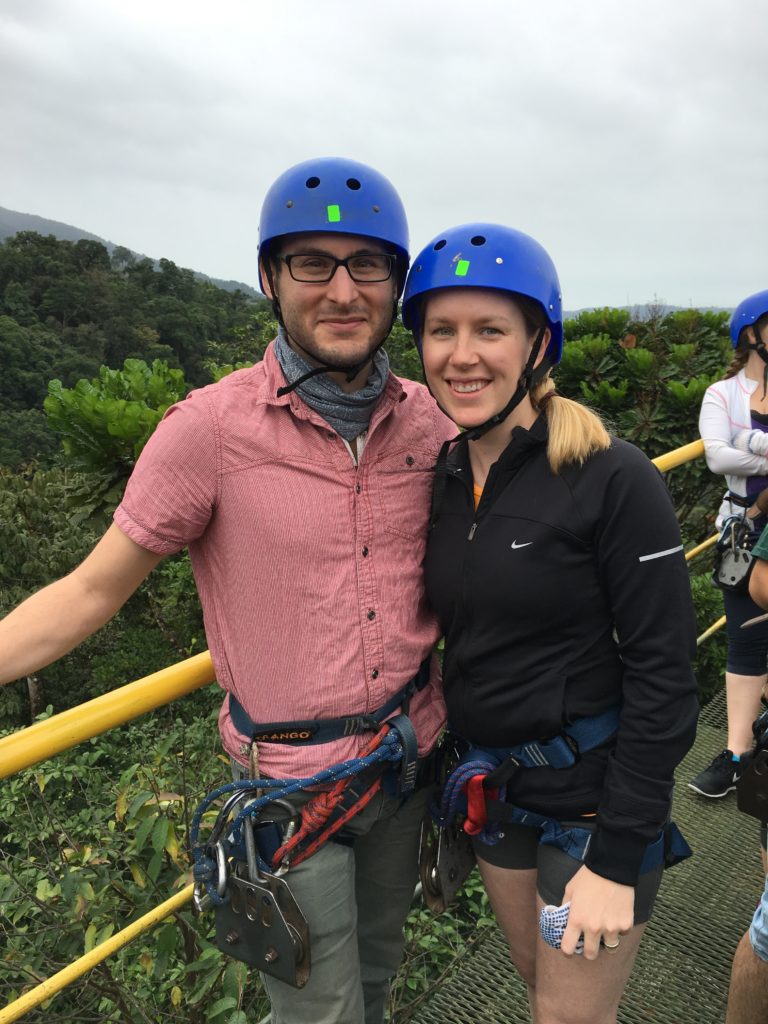 The morning of Day 2, we got ready, met in the lobby, and got ready to go zip lining! This was definitely on our must do list in Costa Rica. We went to Arenal World Adventure Park and traveled on 7 cables for a total distance of 1.7 miles. We flew over Pino Blanco and La Fortuna waterfalls, and it was incredible! My favorite part was when we got to the longest line (1 kilometer long!), the guide said he wasn't sure I had enough weight on me to get all the way across, so I rode with him. As opposed to feeling like a child being babysat, I freaking loved it! I got to fly over the waterfall and not have to pay any attention to holding the rope! If only I could do that every day…! We visited the Maleku Indigenous Village on our way out.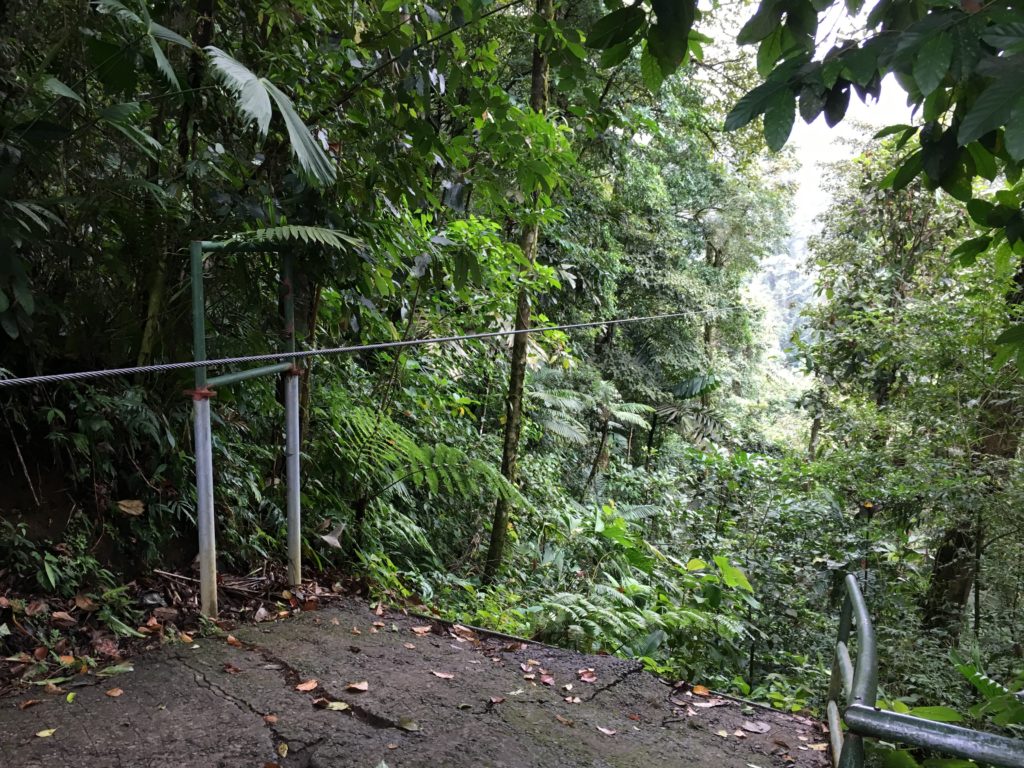 In the afternoon, we went on a guided hike through Arenal Volcano National Park. Our guide was fantastic. She carried with her a pop-up binocular telescope thing and was able to spot animals and reptiles that I would have never seen! She also shared some great stories about the history of the area and the volcano. Once we hiked to the lookout point, it was unfortunately too foggy to see the volcano, but the photos I have seen since look lovely! Hahah. After the hike, we went to Arenal Paradise Hot Springs to warm up. I enjoyed many piña coladas from the pool bars. In a light misty rain. In hot springs.
There's a volcano somewhere back there!
Day 3 was a free day of sorts. There were a few options of excursions that we could add to our package, and we decided once we arrived in Costa Rica to add a visit to the Mistico Arenal Hanging Bridges Park, a series of suspension bridges that form part of a 2-mile trail through a private rainforest preserve. We debated the cost of entering the park, and determined that it was a worthwhile upgrade to go in with an Eco Terra guide. Ultimately, the hike was very enjoyable, even in the rain, but because we went on a rainy day, we didn't get to see much wildlife, aside from birds. Monkeys were on my list, but our guide (the same from the previous day) got sassy and said I should have mentioned that yesterday. Hah!
After getting back to our hotel from hiking the hanging bridges, we took a taxi in to town with the gal pals in our group. This was the day we discovered how amazing Costa Rican comida tipica is! The four of us went to a restaurant and all ordered it, based off the workers advice… or lack of understanding English. We were each served a plate with a meat choice (usually shredded), rice, black beans, a plantain, pico de gallo, and salad. Each table has "salsa" on the table, which was a runny, spicy sauce. All that and a Mexican coke was usually around $10 per person. Sold! Bonus points if we came across frescos, a drink made from fresh fruit pulp and water. Mmmm. So simple. So good.
We decided the taxi ride wasn't that long and walked back to the hotel. Then, we decided to walk farther, to La Fortuna waterfall, hiked down, and back up. And then my feet were done for the day, so we took a taxi back. Funny enough, it was the same taxi driver we had earlier in the day! This small town was adorable. Around then, back at the hotel, the typical afternoon rain rolled in, and we enjoyed our last evening in those hotel hot tubs. I never took a photo of them because it was so wet out, but I found this photo (via) so you can understand why we enjoyed them so much. I mean, come on!

The adventure continued on Matt's big 3-0 birthday! We enjoyed one last delicious breakfast at Casa Luna and then packed up to hit the road again. We drove a while towards Arenal Lake, where we boarded boats to cross the lake. Again, I'm sure the view would have been beautiful on a clear day, but it was pretty wet and cloudy instead. Once we crossed the lake, we then got in another van to continue another 2 and a half hours to Monteverde Cloud Forest Lodge.
From then on, we had the day to ourselves again with a few options of add-ons. After going to find some more delicious comida tipica and frescos at a place I cannot remember for the life of me, we chose to visit El Trapiche Sugar Mill and Coffee Tour. El Trapiche is an independent farm where we learned the ins and outs of sugar production and got an overview of the entire coffee-making process, from crop to cup. We got to ride an ox cart and make our own sugar! The whole thing was 2 hours, but very informational.
That evening, to celebrate Matt's birthday, we went out to dinner at the Tree House restaurant in town. It was great! Live music with a fun atmosphere as we sat a floor or two above the street, outdoors, next to a huge tree. It made me feel like we really were in a tree house, not right off the tiny main street of town.
I haven't mentioned yet, but everything in Costa Rica is outside. There are places that have three walls and a ceiling, but rarely are you really entirely inside a structure. Even our hotels didn't have real seals on the windows, or the top of the wall didn't connect to the ceiling. You were always protected from the rain, but the humidity never left, and we didn't encounter anywhere with cranked air conditioning like you would experience many other places. I really appreciated it.
Once we walked back to the hotel, we saw our group (the gal pals and the father/daughter duo that were doing the exact same Groupon experience as us) in the restaurant area. They invited us to join them and promptly treated us to some wine, a little birthday cake, and singing for Matt. It was a wonderful way to end the day.
The next morning, we headed out to the Monteverde Cloud Forest Biological Reserve to hike the cloud forest. Again, we had a guide with us, which was great because they were able to spot plants and animals and tell us more about both. It was a little wet and chilly out. Again, not ideal to see monkeys, but we saw many birds! One of the highlights for me was a Hummingbird Garden just outside the entrance gates where there were constantly hummingbirds eating from the feeders! Like one hundred of them! I captured some in slow motion and was fascinated by the video—their wings still move almost too fast to see.
And again, we had the remainder of the day to ourselves. There was basically a lot of relaxing, eating, and drinking at Taco Taco Taqueria. For the evening, we signed up for a night walk; basically, a 2-hour, guided hike that started at 5:30 p.m., right around when nocturnal animals would be getting up. The tour included transportation from and to our hotel, flashlights, entrance, and a guide for about $25 a person! We saw a tarantula, red eyed tree frogs, sloths (of course! So many sloths in Costa Rica. Sloths are to Costa Rica as Waterfalls are to Iceland), crazy ants that give the most painful stings of any insect on the planet, lots of snakes, a leaf bug, and coati (a tropical raccoon thing).

After the tour, we splurged on a dinner with the gal pals at an Italian restaurant, which ended up being not very memorable, because again, I can't remember the name of the place or find it on the map. I do remember a dog being shoo'd out of the restaurant. Oh, also, there were dogs everywhere in Costa Rica. Like chickens in Hawai'i! They seemed to get 'adopted' by some people or establishments, but that really just meant that the dogs were allowed inside, as long as they didn't cause a ruckus. One bark and they were out. I was constantly surprised at how aware workers were about customer service. I never felt unwelcome, even more so in the small towns.
Monteverde didn't have as much going on in the town as La Fortuna, but it was a very peaceful place. The town was small so it was easy to walk to it from the hotel. Even though they call it the Cloud Forest, the time that we spent there had very clear, dry, and sunny days! We kind of switched from the usual with La Fortuna and Monteverde in that sense. Maybe that's the norm for the off season, or just a fluke!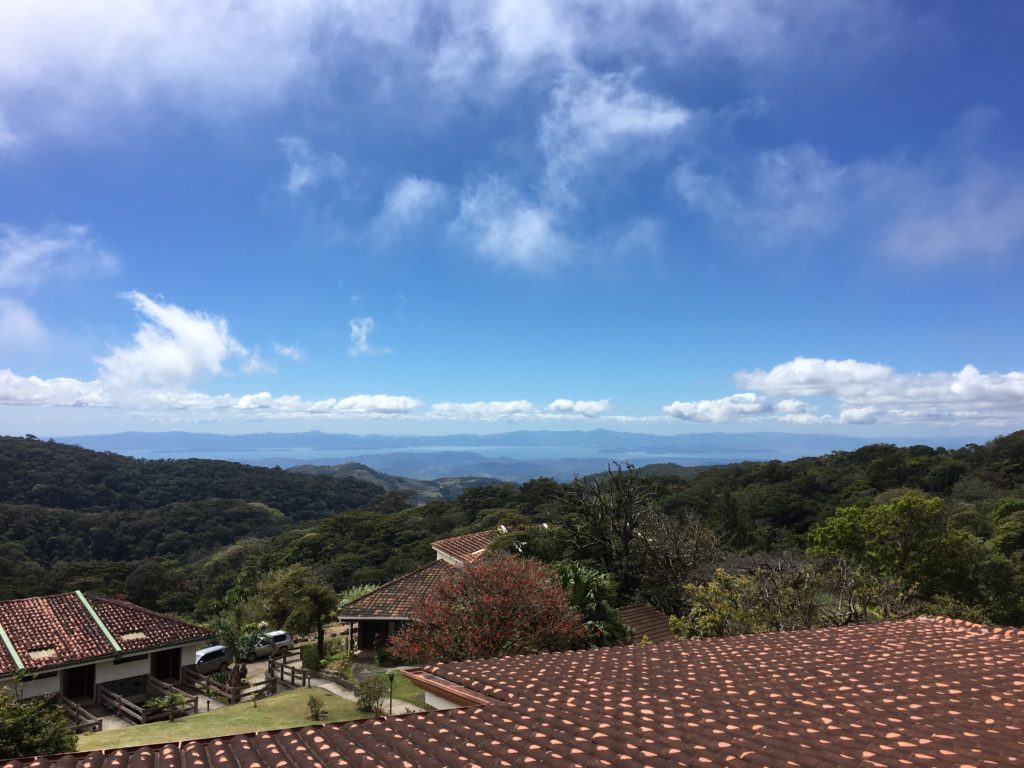 After our days in La Fortuna and Monteverde, it was the last day of our Groupon, which meant it was time that we packed up and headed back to San José. We were picked up at 10 a.m. and started our 4 hour drive. We were supposed to go to the airport, but we ended up in a car by ourselves and asked the driver if he could take us to our hotel that we had booked in order to spend some more time in Costa Rica. Our drive took us through Caldera, the only place on our trip where we would be able to see the ocean. Our driver insisted that we stop and get our feet wet in the Gulf of Nicoya. "You'll be glad you did!" He said. And I am.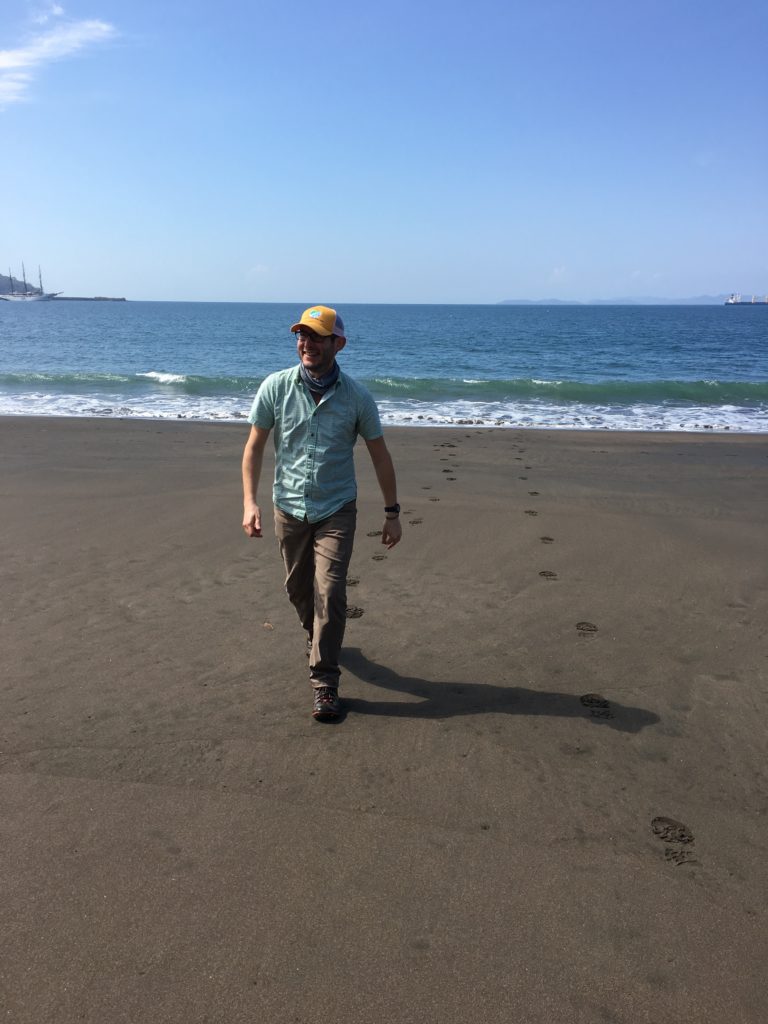 We arrived at Apartotel La Sabana and let me tell you about this little slice of heaven! San José is a big, bustling city. Although I thoroughly enjoyed getting to spend a couple of days there, it was a little rough coming back from the very small and serene towns that we had been engulfed in for the previous five days. Apartotel is a hotel built around a beautiful, lush courtyard of a pool, greenery, and vibrant colors. It was the perfect place to decompress from our trip. Which is exactly what we did—sat by the pool, read a book, edited some photos—until it was dinner time.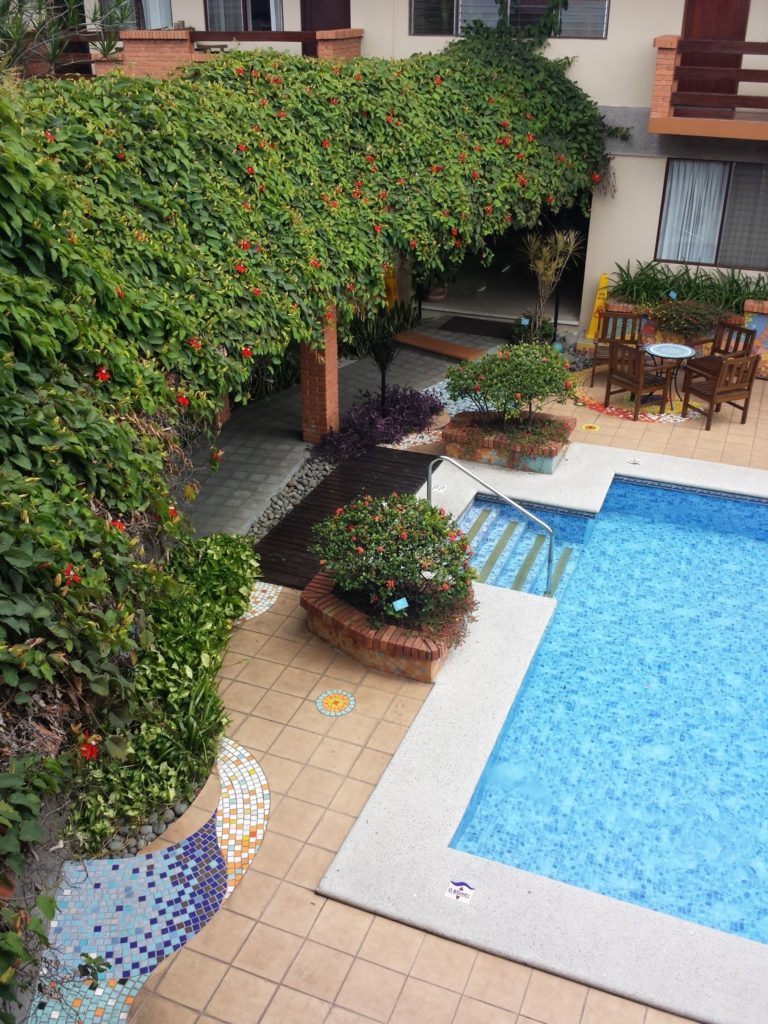 We had heard good things about Tin Jo, and we always love asian food, so that's where we went! When we got in the cab and couldn't accurately tell him where we wanted to go without the help of the concierge, I should have known then that we might have some problems coming back. Pro tip: take one of the hotel's business cards when you venture out in a foreign country, that way you'll have a way to get back that doesn't involve a language barrier. That aside, Tin Jo was amazing. I ate the best shrimp curry out of a pineapple I've ever had in my life! And Matt had something deliciously vegan! Win! During our entire trip, Costa Rica was super easy to eat in with our not so fun food allergies (vegan for Matt, no dairy, eggs, or gluten for me).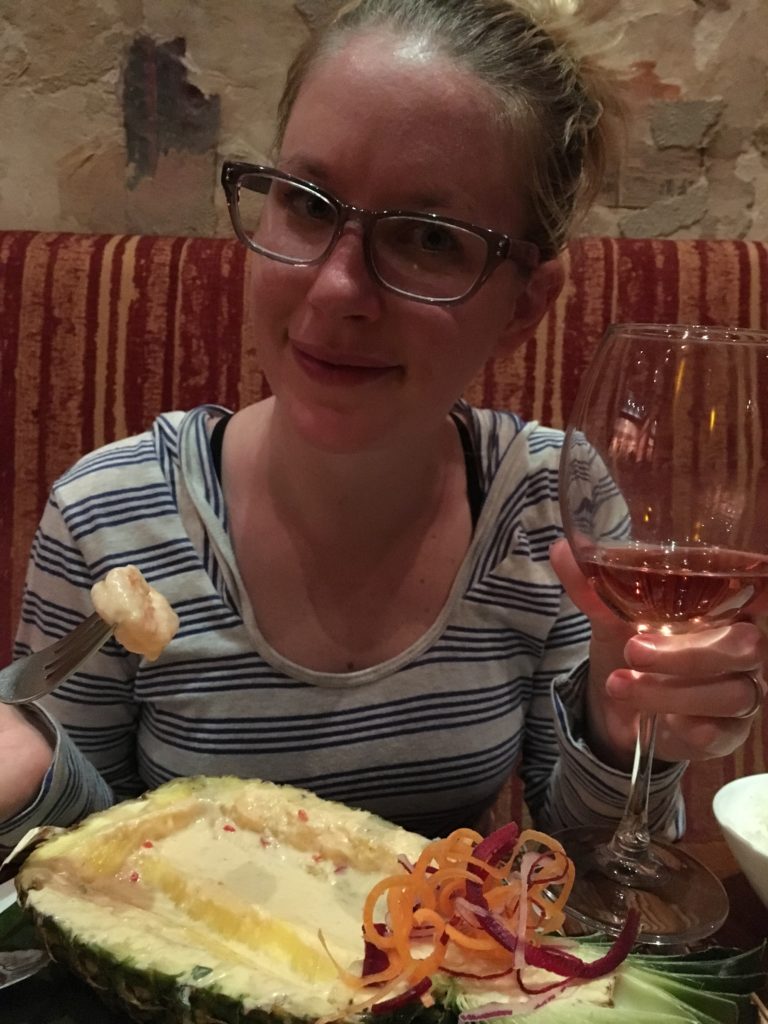 It was really interesting heading back to the hotel. We passed all the shops that were closed up with a raging dance party happening at a club above or next to them, which felt so European to me. Our place was quiet and that was juuuust fine.
The next day was my 29th birthday! My golden birthday! I was turning 29 on the 29th of the month! So, a little on accident, we did all things gold. We woke up and attended the amazing breakfast at the hotel which included custom omelets, waffles, and a bar of amazing fruit. Mmmm, I love fruit and we ate the best fruit during our time in Costa Rica! What a treasure for late January. I was craving meat so we tried Rostipollos, a seemingly very popular chicken place at the end of the street, for lunch, but when we realized almost everything was fried and we weren't going to be able to eat any of it, we got a snack and then left. After strolling around the neighborhood, we came across an incredible deal of comida tipica and coca-cola for $5 a person! Sold.

For our adventures that day, we found a San José city tour bus. We knew we didn't have a lot of time to be touristy, so we thought that would be the best use of ours. I think we just asked our hotel what would be best and to book one for us. We were picked up from our hotel around noon, the tour was 3 and a half hours, and included a local guide. Our first stop was by the University of Costa Rica and the beautiful, tree-lined pathways of Sabana Park for a glimpse into daily life in the capital city. We then saw the opulent National Theater (lots of gold!). It is reminiscent of the grand opera houses of Europe, the ornate structure dates back more than a century and is a source of national pride. Lastly, we visited the Museum of Pre-Columbian Art, which houses an amazing collection of stone, jade and gold artifacts from around Central America. The museum was built within a repurposed military fort, symbolizing Costa Rica's modern tradition of peace. That building was interesting because it is housed under the Central Bank so, no photos of the structure are allowed.
At the end of the tour, after driving by the National Stadium of Costa Rica, the bus took us to a strange place that I can only best describe as a friend's house, converted to a jewelry and art store. It was professional, but it wasn't included in the itinerary. We went there to fill out our final survey of the tour, and we waited until everyone decided to not purchase anything. It was odd. But Matt and I had a good laugh about it.
We then headed back to our hotel, I changed into a gilded dress for the occasion, and went back out to San José's city center to have a birthday dinner. There is a pedestrian street, Central Avenue, and we headed that way to find a restaurant after Matt nixed my idea of going to Tin Jo again. We ultimately ate at the well rated Patio del Balmoral restaurant that was too touristy, not as charming as the photos, and nothing to call home about—although we both thoroughly enjoyed people watching on the pedestrian mall. I definitely regret not pushing for Tin Jo more for my big day! Hahah.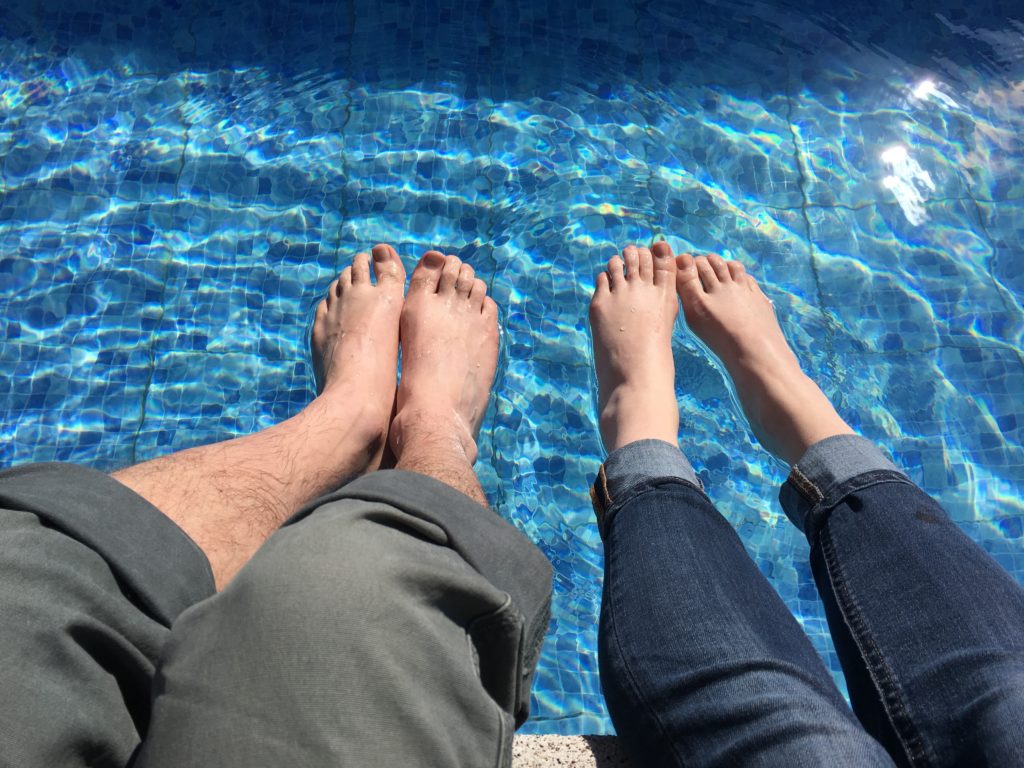 The final morning was pretty slow. We woke up, packed, had another yummy breakfast (where I probably ate approximately a pound of watermelon), and then we sat by the pool until it was time for us to catch our ride to the airport. We flew back through Fort Lauderdale and it was… fine. We didn't want to leave Costa Rica! It was such a great place to visit. Most of all, we enjoyed La Fortuna and Monteverde, but San José was great too. The next time I plan a trip there, I would try harder to see monkeys and the beach.
Love, Shauna